By the staff of Police1
The death of George Floyd in May 2020 sparked a push for extensive police reform. Among these reform initiatives was a request for adjustments to law enforcement training.
From the expanding focus areas in academia to more robust programs for continuing education and recertifications after police leave the classroom, states have implemented or are working on a number of significant changes in the way LEOs are formed.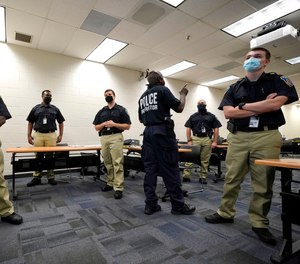 Here is a summary of some of the discussions and legislation that have been passed in training areas such as crisis intervention, implicit bias, and escalation.
Crisis intervention / mental health outreach training
Crisis Intervention (CIT) and mental health training programs have received much of the focus last year, with calls to expand the level of training that agents need to do on a regular basis, as well as explorations on how agents can respond better to these situations with the help of external experts. On the latter issue, many agencies have begun piloting or developing programs in which LEOs respond along with mental health and other social workers, plans that have their share of critics and advocates.
When it comes to training, many states are looking to expand what is required of officers before and after they take to the streets.
California lawmakers have debated the need for officers to take college courses on mental health. York County, Pennsylvania, has released bracelets that can be worn by people with mental health conditions to help LEOs identify their needs, while officers who have received CIT training now wear bracelets that indicate they are certified. In Utah, a commission to address reform in Salt Lake City recommended adding the requirement that all officers be re-certified at CIT after accreditation expires two years after the academy. According to the Salt Lake Tribune, only 41% of the force chose to re-certify after the expiration of the training accreditation. In addition, the side recruitment recommended by the commission is CIT certified. In April 2021, Gov. Spencer Cox signed a reform bill that included annual training in response to mental health.
Police Resource1: The documentary provides a perspective on the police mental health response
Implicit bias
Many states have tightened their implicit prejudice training requirements over the past year, shifting them from one-off training sessions or informal discussions to more robust programs.
In Nebraska, police now have to undergo two hours of bias training annually. Utah plans to add additional hours of implicit prejudice training to the academy. In Louisiana, a bill was passed that requires agencies to implement bias training programs or run the risk of losing state grants. Police training in Aurora, Colorado, now features community members from diverse cultures talking to officers about their experiences with law enforcement. At the Criminal Justice Training Center at Golden West Community College in Orange County, California, contractors are required to visit the Los Angeles Museum of Tolerance.
Police Resource1: What does the success of anti-bias training look like?
Virtual reality training
Some agencies use new technologies to a greater extent than before as part of training reform, such as virtual reality.
The Sacramento, California police department takes elements from the recent controversial shots and implements them in virtual reality training that focuses on issues such as escalation and implicit bias. The PD can create these scenarios quickly after an incident arises. Phoenix, Arizona police use technology to train empathy.
Police Resource1: How a virtual world can improve police training and public perception
Escalation
One of the most prominent training programs to draw attention in the midst of training reform efforts is the Active Bystandership for Law Enforcement (ABLE) project, which is a derivative of the Ethical Policing is Courageous (EPIC) program of the Police Department. New Orleans.
Developed by the Georgetown Innovative Police Program, this peer-to-peer intervention training is being adopted statewide in places like New Hampshire and Washington, as well as in many major cities such as Baltimore and Boston.
Scenario-based training is designed to break down possible inhibitors of the intervention, such as range, and teach agents techniques to look at their partner, whether it means intervening when an officer has to de-escalate an encounter or promoting health. and well-being when a partner shows signs of harmful habits.
In Utah, the police academy adds extra hours of hands-on training instead of a gun.
"You're watching a lot of videos where officers just panic," Major Scott Stephenson, director of the academy, told KSL. "They don't feel comfortable using their hands and so they go to the tool belt."
Police Resource1: The police de-escalation training project is a team effort