The FIU's Ratcliffe Art + Design Incubator has recently launched Tech Conversations: a podcast with experts, community leaders, entrepreneurs and artists examining how technology and design merge to shape the world around us.
"Tech Conversations invites listeners to tune in to innovative, impactful technology conversations with topics ranging from the landing of the NASA rover to the future of art, cryptoart, NFT, virtual reality, and emerging cities and counties as new technology centers in these unprecedented times ". and podcast producer Margarita "Maggie" Salas-Amaro said.
Hosted by incubator director Jacek Kolasinski, Tech Conversations kicked off in February 2021 with NASA's historic rover landing on Mars. The episode focused on the design and technology that will allow the rover to move and collect data for future human missions.
In the following episodes, podcasters discussed the roles of cryptoart and NFT in relation to the art scene and the future of digital art with renowned local artist David Anasagasti (Ahol Sniffs Glue) and the creative of Internet Sam Pepper.
"The team has done an excellent job not only to start and develop the [podcast] but also to have experience and protection to prototype and then successfully bring these informative and motivating episodes to market, exactly what the Ratcliffe Art + Design Incubator has successfully done over the past three years for our innovative students, "said Brian Schriner, Dean of the Faculty of Communication, Architecture + Arts (CARTA), which hosts the Art + Ratcliffe Design Incubator, is an initiative designed to promote and encourage entrepreneurship and social innovation among upcoming artists and designers. the FIU.
During Women's History Month, Tech Conversations featured Miami-Dade County Mayor Daniella Levine Cava, the county's first woman; discussed digital engagement strategies during his campaign.
The podcast also featured the mayor of the city of Miami, Francis Suarez; he discussed his thoughts on a remote world induced by the pandemic and the opportunities that arose from it. He also discussed the consequences of the digital divide surrounding our community and its effort to reduce it with the "Miami Connected" initiative, which would bring free broadband connection and digital tools to more than 100,000 students.
"Everything we do and play, even this podcast, is done through a virtual platform and that will only consume more of our lives, so every city in the world should do what we're doing, nails to grow and expand our technological ecosystem, "Mayor Suárez said.
Having launched itself in the midst of the pandemic, the RA + DI Tech Conversations team found it important to highlight FIU's mission to continue to inspire students during remote learning. To do so, Kolasinski spoke with Karla Kennedy, CARTA's director of e-learning; addressed some of the challenges related to distance learning, such as engagement, and the future of these educational platforms.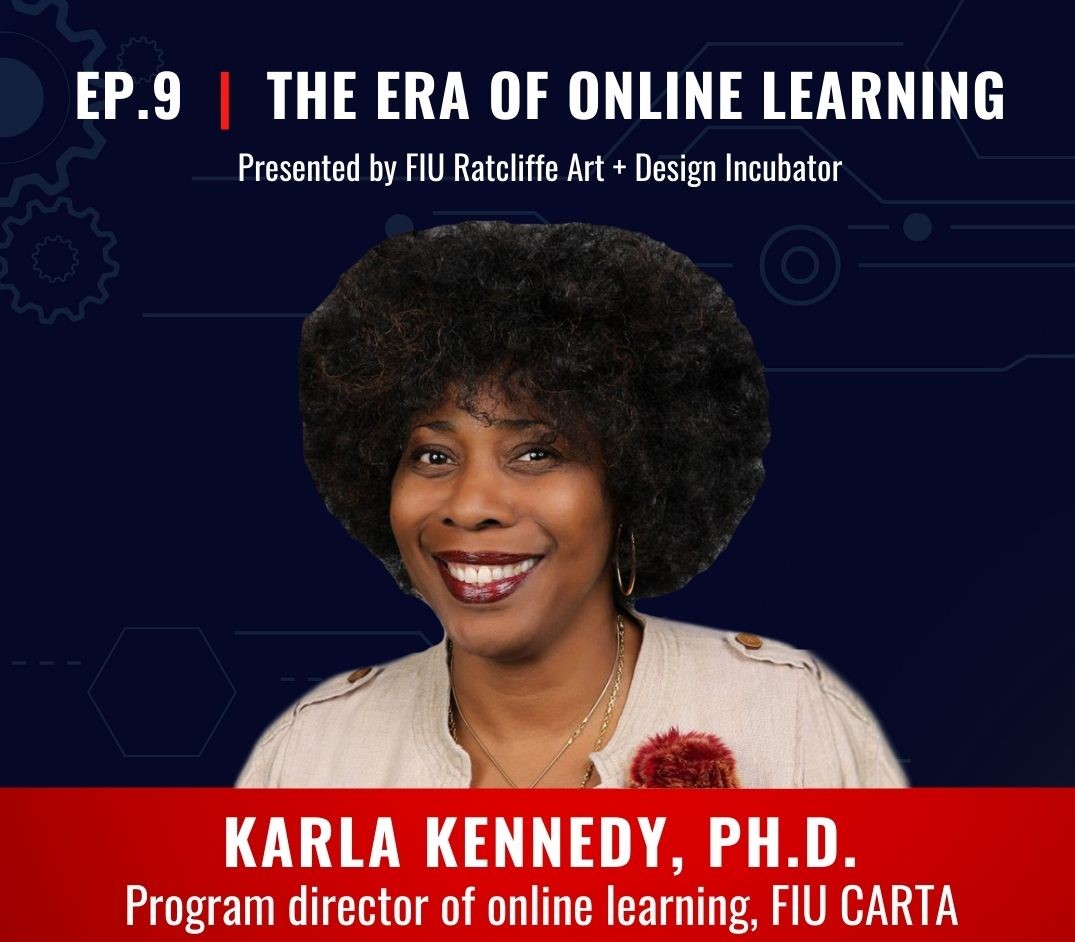 "Students and even educators are inspired in the classroom, so it has been a challenge to move to this new platform," Kennedy said.
More recently, Kolasinski sat down with Rodolfo Peraza, a Cuban-born multimedia artist who took listeners on a unique journey that began with his work in Havana until the creation of the MUD Foundation, which helped to advance the intersections between art and digital technologies through art. and educational programs.
"We launched Technology Conversations to foster the technological evolution around us, in our communities and in the world," Kolasinski and Salas-Amaro said. "The issue is not limited to the usual technology audiences. Our talks go one step further, examining new digital landscapes in art, virtual reality and government policy on algorithms and artificial intelligence. "
Other prominent guests are Joanna Popper, head of global RV at HP; Paola Elorza, meteorologist for NBC Telemundo 51 in South Florida; and transmedia artist Stephanie Dinkins.
Get up to date with all the episodes of Technical Conversations on Spotify.