Sky has expanded the virtual reality (VR) coverage of sports available through Sky Worlds.
He started Sky Worlds late last year as a replacement for Sky VR and began showing occasional live Premier League matches.
It has now expanded to cover netball and Extreme E.
In the Copper Box were immersive cameras to capture live coverage of all matches of rounds 13 and 14 of the Vitality Netball Super League. A few weeks later, Sky Sports did the same for rounds 17 and 18.
Sky used a user-selectable three-camera setup and aired 18 hours of netball live over four days.
Sky Worlds is available in Oculus Quest and Quest 2 and creates a 180-degree live stadium experience by placing spectators in the stadium and allowing them to select unique camera positions to follow the action.
The idea is to try to reproduce a viewing experience similar to being inside the stadium. There's also the option to watch the action alongside friends and family at Sky Sports Watchzones, to make it a more sociable experience.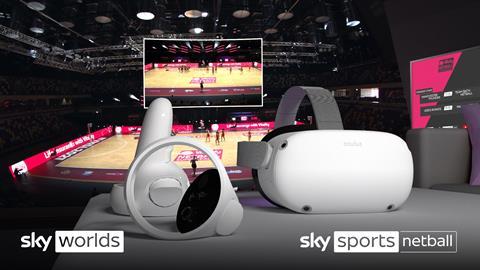 In late May, Sky also brought Extreme E action to Sky Worlds, covering the Ocean XPrix from Senegal.
In addition to the Premier League, Vitality Netball and Extreme E live, Sky Worlds users can watch Sky Sports linear channels (Sky Sports Premier League, Sky Sports Mix, Sky Sports News and Sky Sports NFL) via the VR environment in what Sky calls 'virtual room'.
Sky Original movies can also be viewed similarly. These options basically put you in an immersive space where you can view content on a large virtual screen.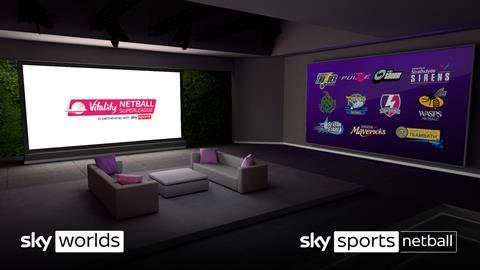 Sky Worlds is currently only available for Sky VIP [Sky's loyalty programme] clients. VR is created and delivered by a team that includes Sky and its partners, Tiledmedia, Techex and Cosm.
Sky Worlds Review
I had a chance to try Sky Worlds on an Oculus Quest 2 to watch the Vitality Netball Super League action and some of the other sporting highlights.
The last time I really looked at virtual reality properly was through headphones like the Samsung Gear VR and Google Cardboard, so the whole Oculus Quest 2 experience was a big leap forward. The immersive experience was of much better quality, the images were clear and well defined, and the content was much more comfortable to watch for extended periods of time.
The Sky Worlds action I saw was awesome, as live football and netball were a reasonable hit at making you feel inside the stadium. You can look around the stadium from your point of view and watch the immersive 180-degree action on the playing field from the range of camera positions available. There is also a large virtual screen that shows the action as it would look on a conventional screen.
There was a small delay between the 2D viewing of the big screen and the immersive action in virtual reality, which was especially noticeable on the network ball and which was a bit distracting, leaving me wondering what the point was. from the big screen when you can follow the action already in RV.
It was easy to change the camera angles, both in netball and in football. Being able to watch the action live from behind the net was especially effective.
However, even though everything works properly and smoothly, I found that there was still a limited amount of time I was happy to watch the games through the headphones. It definitely has a "wow" factor and is far more deserving of it than previous generations of VR. But it's weird to see him with headphones on and it's not the most comfortable visual experience imaginable. I'm still tempted to file everything in the "awesome trick" category.
Interestingly, Matthew McCartney of Sky Worlds recently wrote a comment for Broadcast Sport where he admitted: "Virtual reality is not the end product for broadcast consumption, it's just the first step in a journey that will lead to a world of RA fully compatible with 5G ". So this seems like one more step in that direction. It's stunning, immersive, and offers something that can be seen, but there are still many more steps to take before fans are likely to tour regularly.